For Questionable Material fans, regarding our COVID-19 protocols.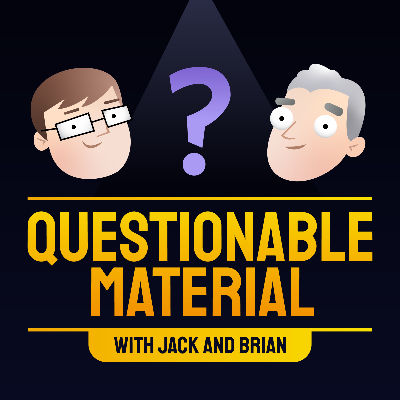 Dearest quarantined newsletter and hopefully podcast subscriber,
 
Your inbox is likely full of emails from companies that you haven't done business with for 7-10 years, informing you about how they intend to help you weather the crisis. KFC, Midas Muffler, Tim's Custard Shoppe. They are there for you.
 
We are no different.
 
Your health is of the utmost importance to us. "One less listener is one less download," is what Jack has been mumbling constantly, for weeks now. He just doesn't shut up about it, honestly. His wife and children can't take it, but he doesn't care. It means a lot to him that you stay healthy and download-y.
 
To that end we have taken several precautions:
Before we upload an episode of Questionable Material to the Internet, we make sure to wipe it down with a precious Clorox wipe. It's incredible how something once viewed as disposable is now legal tender at most farmer's markets and independent family groceries
 

We stopped outsourcing half the joke production to China. This had been a long time coming, as we'd noticed a dramatic reduction in joke quality. The last shipment even contained traces of melamine, which unfortunately didn't kill Jack's insufferable chihuahua.
 

Jack is at higher risk for COVID-19 because a work colleague had it and she was idiotic enough to come to work. As a result, Jack has been asked to stand at least six feet from the microphone, which explains why he sounds terrible. Also, he has a lousy voice that people want to punch. 
 

Brian has quarantined for over two weeks now because in early March, like an idiot, he flew to a podcasting conference in Florida. A podcasting conference. He did this for you. If anything happens to him, it's on you.
 

All utterances in an episode of Questionable Material are sanitized for your safety. We've employed people with degrees in critical theory to evaluate all the jokes and determine whether they are hurtful to any of earth's inhabitants. 

We understand that these are times of financial uncertainty for many. As a result, the podcast will remain free for you and unprofitable and time consuming for us.
 
We know you are likely looking for something to do during all this downtime. We have suggestions:
 
Catch up! All episodes of Questionable Material are timeless. We currently have 25 episodes for your enjoyment. Every single one is free and will help you with anything you might be doing at home, like painting the kitchen, re-grouting the bathroom, or hiding from your wife and kids in the basement.
 
Review us! Spending twelve seconds writing a review of the podcast is a very easy way to show support and spread the good word -- the good word being that we're a comedy podcast with original material and not a comedy podcast that just interviews other comedians. Here's a link to the review platform of your choice.
 
Spread the good word! Do you have friends or relatives with similar taste in entertainment? A dark sense of humor that compels them to make jokes during troubling times? Feel free to forward this newsletter to them. There's nothing in it we're afraid of sharing, aside from Jack's ATM and phone PIN codes which are both 7263.
 
Give us feedback! We like getting emails from people telling us what they like, don't like, or would be interested in hearing. Feel free to chime in. And we mean it! We're not like that friend who asked you to take a look at his screenplay and then got all bothered when you didn't come back and say that it was a masterpiece.
 
Please stay healthy during these weird times. 

Jack & Brian
PODCASTERS